Live MP3s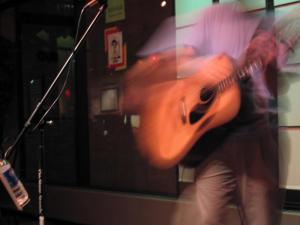 See some acoustic performances of songs from "The Simple Life" over on YouTube.
Here are some random MP3s from my live shows:
Various Originals
Home Improvement (w/ full band), 1/21/05
Cherry (w/ Jamie Dull), 12/16/05
Troublemaker, 1/9/04
Stickybee > Big Disco Ball (w/ Jamie Dull and Brad Roll), 2/9/07
Various Covers
Psycho Killer (Talking Heads), 1/16/04
Hey There, Fancypants (Ween), w/ Marshall Miller, 11/12/04
Bridges and Balloons (Joanna Newsom), 2/4/05
Time (Tom Waits)
November (Peter Mulvey), 4/2/04
Given Myself (Tom Cadaret), 10/15/04
La Petite Mort (Erin McKeown), 10/29/04
Roses (Outkast), 8/28/04
Taxman (The Beatles), 4/15/05

Ritz Theater - December 7th, 2007
The first song ("Me and Billy Barnum") didn't come out on the tape. :(

Download .ZIP File of Whole Show
Stream Whole Show
Coffee Amici - Oct. 28, 2006 (video!)
This concert was recorded for WBGU-TV. The video is available on YouTube.
Coffee Amici - Oct. 15, 2005 (full show)
Download .ZIP File of Whole Show
Stream Whole Show

Set 1: Big Disco Ball, Morning After, Fit For A King, Waiting Takes Time, Bridge, Postcard From Hell, Mona Lisa, Can't Take Our Love Away, Thanks For Coming, Goodbye To Spring

Set 2: Incoherent, Cherry, Fight the Sea, Complicated, Midnight Sun > Texas, Shes On My Mind, 1000 Words, Hey Ruth, Bonjour Mon Amie, Violet Wants It Her Way, Psycho Killer

Encore: I Will Follow You Into the Dark
Coffee Amici - Apr. 30, 2005 (full show)
Featuring Marshall Miller (electric guitar) and Tom Cadaret (slide guitar)

Download .ZIP File of Whole Show
Stream Whole Show

Set 1: Goodbye (Steve Earle) > Fool's Gold, Gigolo, Mona Lisa, Big Disco Ball, Dust, Bonjour Mon Amie > Hey Ruth, I Gotta Get Drunk (Willie Nelson), Troublemaker

Set 2: Cherry > House In My Head, Midnight Sun, Morning Blue, Singapore (Tom Waits), The Pawnbroker's Stepdaughter, Please The Pig, Snooter, Can't Take Our Love Away, Toronto Star, Waiting Takes Time, Thanks For Coming
Coffee Amici - Jul. 3, 2004 (full show)
Download .ZIP File of Whole Show
Stream Whole Show

Set 1: Wake Up, Mona Lisa, Hey Ruth, The Spirit World, Talk About Your Feelings, Swimming To Cambodia, Troublemaker, Twelve Monkeys, Toronto Star, She's On My Mind

Set 2: Incoherent, House In My Head, Complicated (Avril Lavigne), I Hate You, Texas, Fight The Sea, Soft Orange Glow, Home Improvement, Obvious Child (Paul Simon), Violet Wants It Her Way, Please The Pig

Encore: Thanks For Coming